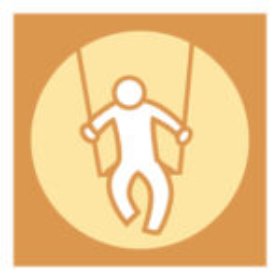 Pediatric occupational therapy is a skilled therapeutic treatment, which focuses on helping infants, children, and young adults maximize their abilities to

achieve the greatest

possible degree of functional independence in

all

areas, or "occupations", of their lives.
Occupational Therapy uses purposeful and goal-directed activities in conjunction with play to improve function, enhance mastery of skills, foster positive self-esteem/confidence and promote engagement, interactions, and involvement.
By utilizing a variety of evidence-based theories and treatment techniques, our therapists address the unique and individual concerns of each child and their family.

Our occupational therapists are highly trained to assess and provide treatment to children from birth to young adults. We understand that all children are unique and not everyone fits into a specific therapy model, so by individualizing treatments we are able to provide the most effective intervention for each patient.
What are occupations in childhood?
Daily Living Skills
Eating

Dressing

Grooming

Bathing

Toileting

Sleeping

Household Responsibilities

Community Living Tasks
Play & Socialization
Independent Play

Cooperative Play

Pretend Play

Sports Recreation

Hobbies

Playing Games

Use of Toys

Establishing Friendships

Sharing

Turn Taking

Listening

Engagement and Interaction

Social Greetings
School Performance
Participation in Activities

Coloring

Drawing

Cutting

Handwriting

Following Routines

Following Direction

Concentration

Attention

Meeting Academic Standards

Organizing Materials
Frequently Asked Questions
Sensory Integration Therapy
Therapeutic Listening®
SOS Approach to Feeding®
Craniosacral Therapy
Qigong Sensory Therapy
Handwriting Without Tears®
Social Skills Programs,
Astronaut Training Program,
Myofascial Release,
DIR®/Floor Time™ models,
Alert Program®,
Bala-Vis-X®,
Augmentative Communication,
Home Programming,
and Parent Education/Training.
At Neurotherapeutic Pediatric Therapies, we specialize in seeing children from birth to young adulthood who are dealing with the effects of disease, injury, birth defects, disability or developmental problems can benefit from treatment.
Sensory Processing Disorder
Sensory-Based Feeding Disorder
Sensory-Based Learning Difficulties
Autism Spectrum Disorders (Autism/Aspergers/Pervasive Developmental Disorders)
Gross and Fine Motor Delays
Developmental Delays
Coordination and Balance Problems
Attention and Concentration Problems
ADD/ADHD
Down Syndrome
Fetal Alcohol Syndrome/Affects
Cerebral Palsy
Learning Problems
Birth Injuries or Defects
Traumatic Injuries (Brain, Spinal Cord, Hand)
Neurological Disorders
Chromosomal Disorders
Executive Function Disorders